Gympie Medical Transport Delivers!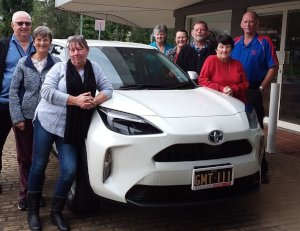 Our Committee and Volunteers have delivered on our promise for the people of Gympie, which was to be offering services by January 2021. Now in July 2021, which is 7 months later we have four cars, 200+ clients, traveled over 40,000 kilometers taking clients to and from their medical appointments.
Bookings remain open for your non-urgent Medical Transport needs to locations outside of Gympie; including Brisbane, Sunshine Coast, Hervey Bay, and all points in between, just call us on
07 5371 9823 for any enquirers.
Fees do apply and you may be eligible for rebates under the Queensland Health Patient Travel Subsidy Scheme (PTSS) which will largely offset the fees. If you need advice on PTSS before you travel, please ask our bookings volunteers when you call the office.
GMT's chosen Toyota Yaris Cross has a seat height entry level 25mm lower than an SUV and 25mm higher than a small car, making it an ideal solution that should satisfy most clients.